Knowledges That Should Be Aware of about PDS.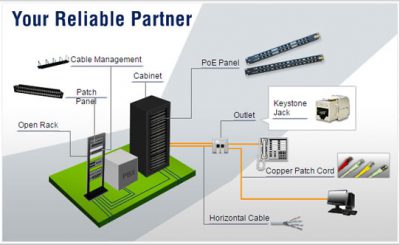 To enhance staff's technical skills, lecture is held to talk about PDS.
Before carrying on, plans must be made to coordinate engineering of civil works, fire control, air-conditioning, lighting and so on.
If environment permits, it's better for weak electrical system to own an Elv well of its own, reducing electromagnetic jamming. Meanwhile, cabinets and 

EDP

room should be as large as possible, in terms of maintanence and development.
You'll find it very necessary to place outlets as many as possible, usually wallplates with double sockets(1 audio, 1 data), along with which are power outlets.All we do like this is that PDS is somehow  one-way work.
Never think too far to overload PDS, telecom, network and security system are quite enough.
Comprehensive consideration should be taken to solutions. For example, CAT5 or up horizontally for exchange between data and voice; optical  fiber verticallyto increase pairs of cables and so on.
Optics should be places in big-open cabling, cause products of this kind is declining and is beneficial for network.
DG tube of larger diameter should be taken in order to supply enough space for fiber cables, which are picky for radius of turning circle.
With the cost declining of optical fiber welding equipment, pigtail welded with optical fiber can replace the convertional ST and  SC connections.
Pursuit of brand is inadvisable in PDS.
Above all, before PDS, we need to learn, think, compare and so on.